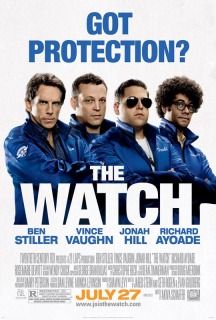 I've often been accused of being too high-browed and pretentious to ever like "stupid" movies. The Watch is one hell of a stupid movie, but I found it enjoyable. By no means is it a good film, but like many of Ben Stiller's purely comedic outings, it is competent entertainment that I welcome with a chuckle. With ample penis jokes, sex orgies, and well-timed humor from Richard Ayoade, The Watch works at tickling my funny bone, even as my intellect took a nosedive.
The Watch's most interesting contribution to Ben Stiller's paltry of Hollywood comedies comes from the aforementioned Richard Ayoade. I'm not familiar with Ayoade outside of his directorial debut, Submarine. That picture has grown in stature since my last viewing, and I'm very interested in seeing what Ayoade does the next time behind the camera. As an actor, he functions as the overt counterpoint to most of the goings-on in The Watch, as his dry delivery operates in sharp contrast to Vince Vaughn and Jonah Hill's on-the-nose comedic style. Ben Stiller, playing the straight man, adequately captures the sort of character that inhabits the dry suburban backdrop. The general premise in play involves the middle-aged foursome absent-mindedly attempting to piece together the origins of a potential alien invasion. It's a sufficient enough plot point to supply a well of comedy, particularly as the narrative works through a series of suburban neighborhood clichés. From the community's useless police force (led by Will Forte) to the general dullness that comes with suburban life, The Watch adequately addresses the overt and expected.
I suppose, on another day, I could scrutinize the picture's simplicity. Its masculine-driven nature, with Vince Vaughn's probing helicopter parent role, sticks out as a particular sore spot for me as well. But the picture is of little consequence, as one would expect of any film that utilizes an alien's scrotum as an Achilles' heel. Like with last year's Tower Heist, a film that only barely registers in my memory, The Watch is the sort of complacent viewing that's needed from time to time in my cinematic diet – call it the junk food of my regimen. I will say that Stiller would be better suited for roles akin to his work in Greenberg and The Royal Tenenbaums. With Tower Heist and The Watch, he's working with ensembles that overshadow him comically. He has grown past this sort of thing. 
Rating: 5/10