Part of what enamors me about the whole concept of Oscar prognostication is the mystery of it all. It's trying to separate between your own taste and those of a larger voting body. It's attempting to understand the perspective of studios in terms of pushing one actor over another. There's nothing artistic about the process; if anything, it strips the artistry of filmmaking to a science. The science can become repetitive and mind-numbing; at my recent prescreening of Young Adult, director Jason Reitman expressed fatigue when dealing with the press and pundits. After the disappointing performance of Up in the Air following a long festival campaign to push the film, it's no wonder he has opted to pursue smaller individual venues to get the word out. It works for me; Young Adult is one of the year's best films, and the whole experience of having him, writer Diablo Cody, and actor Patton Oswalt to do Q&A was terrific.
Just a year after Reitman's Up in the Air fiasco, director David Fincher went all out on a press campaign for The Social Network. The film was critically lauded and looked to have had its Best Picture and Best Director wins sealed; that is until the Producers Guild of America awarded The King's Speech instead. Things went south fast for The Social Network, so it's no wonder Fincher has opted against any sort of awards campaign on his part for The Girl With The Dragon Tattoo.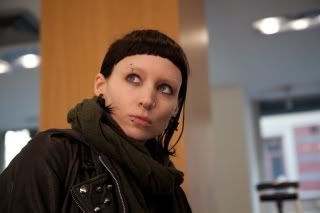 But as you can see on the updated sidebar, I'm thinking the film is going to play big. Like the Coens' True Grit, I'm getting a sense that it'll be the sort of late player that doesn't have a wider buzz circulating around it until after its release. And perhaps this is a bold statement, but I'm thinking the film will be a larger commercial player than any of Spielberg's films in the December timeframe.
Part of what makes this whole prognosticating thing a snap is that I'm working with historical data. When you have someone like Meryl Streep, who's been nominated 16 times since 1979, it's going to be likely that she'll be nominated again given the weight of her role in The Iron Lady. Sight unseen, you're taking a logical bet. Similarly, Steven Spielberg's one-two punch with War Horse and The Adventures of Tintin lead me to believe that he'll secure a nomination (for the former, though it's not out of the question for the latter) for either Best Picture and/or Best Director. Numbers are on your side.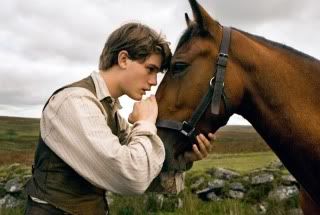 There are plenty of curveballs to throw you off though; there are typically one or two first-time nominees who enter the field. From there, you're basing your information on others expectations, adding up praise and subtracting dismissals. One can attempt to create a formula to the whole affair, but then, there are those odd-ball nominations that simply come out of nowhere and can't be justified (Tommy Lee Jones for In The Valley of Elah for one).
But as we wait for the upcoming New York Film Critics Circle to outline what will certainly alleviate confusion as to who are "contenders" (which will be followed by the National Board of Review's top films), it's all guesswork. And well, it's the best time for this sort of thing; it's probably the closest any Oscar pundit gets to actually implementing their own cinematic taste into the proceedings.
So for now, here's my first stab at predicting the 2012 Academy Awards. It'll be lots of fun to see how off I am come February 26.
Best Picture: The Artist
Best Director: Terrence Malick, The Tree of Life
Best Actor: George Clooney, The Descendants
Best Actress: Viola Davis, The Help
Best Supporting Actor: Brad Pitt, The Tree of Life
Best Supporting Actress: Vanessa Redgrave, Coriolanus
Best Writing (Adapted): The Descendants (Nat Faxon, Alexander Payne, Jim Rash)
Best Writing (Original): The Artist (Michel Hazanavicius)
Best Art Direction: Hugo
Best Cinematography: The Tree of Life
Best Costume Design: The Artist
Best Film Editing: The Artist
Best Makeup: The Iron Lady
Best Music (Original Score): War Horse
Best Music (Original Song): The Muppets 
Best Sound Editing: War Horse
Best Sound Mixing: The Adventures of Tintin
Best Visual Effects: Rise of the Planet of the Apes
Best Animated Feature: The Adventures of Tintin
Best Documentary Feature: Tabloid
Best Foreign Language Film: A Separation