Like last year, Magnolia Pictures has brought the Oscar nominated animated-shorts to theaters, along with a few highly commended films that were not nominated. This year's nominees are an interesting lot, though a bit of a step down from last year's showing.
Madagascar, A Journey Diary (Bastien Dubois, 2010) (4/10)
Of the five nominated films, and the overall seven shown, Dubois' film is easily the most visually compelling. Offering a hodge-podge of visual styles, Madagascar functions precisely like a diary, offering glimpses of the rich cultural palette that Madagascar offers. Unfortunately, the visual style works against it in immersing you into the universe that Dubois hopes to place you in – it's far too awkward an experiment to really embrace.
Let's Pollute (Geefwee Boedoe, 2011) (5/10)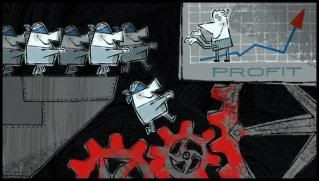 A snarky look into America's cultural heritage of waste. It's not particularly insightful, though its limited runtime allows it to not overstay its welcome. The voiceover is reminiscent of a 50's sales pitch, with cute animation that depicts the end of the world. It's a bit too shallow to take seriously, but it's enjoyable enough.
The Gruffalo (Max Lang & Jakob Schuh, 2009) (5/10)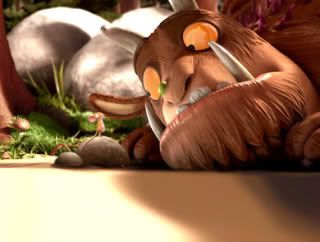 The Gruffalo is an extremely straightforward, somewhat redundant story that follows a mouse as he travels through a forest. He avoids various predators through the use of white lie that eventually comes back to get him. It's simple in design, with clay-like animals placed into a rich forest backdrop.
The Lost Thing (Andrew Ruhemann & Shaun Tan, 2010) (6/10)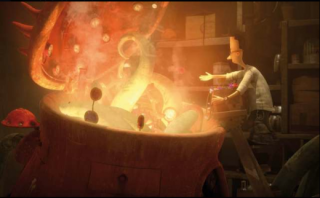 The best of the nominated five films, The Lost Thing follows a young man who discovers an odd half-machine, half animal contraption that seems to be lost. The film comments largely on how the mundane aspects of life can strip away imagination and remove a sense of solidarity from those you care for. The character designs are odd and a bit ugly, which is contrasted with the beautiful imagination of the film's conclusion. The pessimistic ending definitely made the film the odd-man out from the rest of the batch.
Day & Night (Teddy Newton, 2010) (5/10)
One of Pixar's lesser efforts, I found Day & Night to be a bit too simplistic, with its ideas worn on its sleeve. The idea is undeniably cute, but it never really moves beyond its premise.
Urs (Moritz Mayerhofer, 2009) (6/10)
Urs is a sweet short about a man who leaves his home whilst carrying his elderly mother, who sits on a rocking chair, on his back. The film is quite touching, with animation that has a distinct look. It's disappointing that this was not nominated, because it's easily better than the majority of the official nominees.
The Cow Who Wanted to Be a Hamburger (Bill Plympton, 2010) (7/10)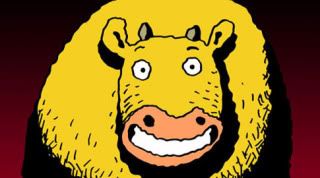 Bill Plympton has always been a mixed bag for me, and I can't say his animation design really impresses me. But the ideas behind his films are always worth a look, and this ranks as one of his best. It essentially plays with the same ideological framework that the nominated Let's Pollute does, but Plympton is far more subtle about his critiques. His humor is sharp, using every moment of the film (even the credits) to garner a laugh.