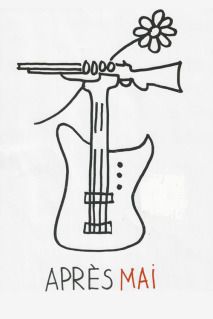 Opening with several high-octane moments of narrative propulsion, Something in the Air settles into something more indicative of its title. Soothing and blissful, Olivier Assayas' newest film is as much an exercise in creating atmosphere as it is a picture of youthful rebellion. A fitting follow up to my viewing of David Chase's Not Fade Away, Something in the Air possesses both a more melancholic and boisterous account of teenage transgressions, with a similar admiration for the music and films of the era. Perhaps bogged down a bit too much by its secondary characters, Something in the Air's overarching vibrancy and truthfulness of youth forgives many of the film's shortcomings.
The picture is structured around Giles (Clément Métayer), a would-be painter and film enthusiast who initially finds himself selling radical newspapers and participating in thinly veiled acts of anarchism. A vague component of the picture is its characters' politics. Perhaps purposeful, their naivety and fluid understanding of the world serves to be shaped as they expand their horizons. What Assayas strives for is developing a moral and ethical code for his characters. As the rebellious youth elevate their activism from printing rhetoric to vandalism and eventually acts of violence, their understanding of the world remains limited. It's through the summer that many of his characters achieve a measure of self-realization. Finding something to latch onto; a measure of conviction in what one does is of great concern to many of the films characters.
Most problematic to Assayas' film is his own lacking conviction toward developing a core character. While the narrative pivots around Giles' exploits, he's more an observer to the facts as opposed to a crucial component to the picture itself. Secondary characters, including Giles' friend and another would-be painter suffer from a lack of development even as a thriving plot revolves around them (his friend dates an annoying American who attempts to reconcile their love and a passion for dance).  Lola Créton, who starred in the recent Goodbye First Love, is an impressive presence here, often tiptoeing points of fragile delicacy and intimidating force.  But the material offered to her is limiting. With its character issues put aside, Something in Air may not achieve levels of grandiose, but the subtle aspects to its atmosphere and personal touches (from the making of propaganda flyers to its acts of vandalism) pull you in for their visceral values. Assayas is a director capable of great intimacy, moving through a picture with a fleet-footed understanding of subtly and broadness. Something in the Air is not his finest work, but it serves as a logical extension of where his oeuvre is headed – in the footsteps of Summer Hours and Carlos, Something in the Air combines the political mysticism and ruminations on youth of his previous films to impressive effect. 
Rating: 7/10