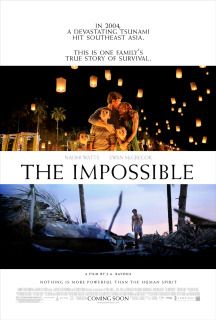 The Impossible is an immaculately crafted film. Individual technical components to the picture, such as Óscar Faura's gorgeous cinematography, Bernat Vilaplana and Elena Ruiz's crisp editing, and Eugenio Caballero's incredible production design all contribute to Juan Antonio Bayona's narrative of a family's struggle in the aftermath of a tsunami. Bayona's stylistic approach provides an undeniably acute directorial presence, perhaps most comparable to Julian Schnabel's work in The Diving Bell and the Butterfly. This is all compounded my stellar performances from all of its leads, particularly Naomi Watts and newcomer Tom Holland. With a pedigree of such incredible components, The Impossible becomes victim of being less than the sum of its parts – largely based on the faults of clunky dialogue and cliché narrative devices that unfortunately get in the way of The Impossible's finer technical accomplishments.
Bayona directs the first act with every effort to convey the serene beauty of the Thai coast. Taking place largely on a resort, Bayona positioned his central family as one of class and privilege, but makes no attempts to comment on their social status. Normally, I'd take umbrage with such an absence of social politics. But Bayona and writer Sergio Sánchez ultimately strip away any social commentary on the picture, opting for a more primal and humanistic narrative framework. This is a wise detour, as the visceral aspects of Bayona's direction works beautifully in conjunction with the plot's disaster elements. This is a picture that envelops the audience through technique – in what has been the most engaging sequence I've seen all year; Bayona's tsunami scene evokes sheer brutally and unwavering humanity.
The picture never quite reaches the heights of that sequence, a scene that apparently took a year to shoot. But the film itself posses a glowing humanistic quality, much akin to the films of Steven Spielberg. How one takes that description is dependent on your admiration for Spielberg, but Bayona obviously adheres to a similar moral integrity. Much of the picture's emotional elements felt too engineered and superficial – a problem I often have with Spielberg's films as well. While much of the picture's dialogue and plotting register as false, it never becomes objectionable. Perhaps slight, The Impossible is elevated for its precise formal qualities. Bayona's efforts are assured and display a markable improvement from his previous feature, The Orphanage. Other aforementioned qualities (the editing, the production, the acting) more than compensate for writing missteps that, in retrospect, hardly dent the picture's impressive guttural impact.
Rating: 7/10