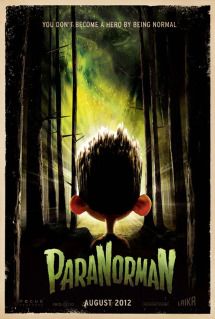 2009 being a distant memory, it's hard to imagine a better year for animation. Pixar released what now appears to be their final, purely original effort in Up. Wes Anderson's first foray in animation with Fantastic Mr. Fox was better than anyone imaged. Original efforts in Adam Elliot's Mary and Max and Henry Selick's Coraline pushed the boundaries as to what animation could achieve on a narrative and technical level respectively. 2010 was never going to compete with the wide slate and stylistic variety of '09, but it still provided audiences with Sylvain Chomet's impeccable The Illusionist, along with the third Toy Story film. 
Typically reliable animation studios like Pixar, Studio Ghibli, and Aardman Animation have reached a point where their output simply does not live up to their rich histories. Surprises, such as Nickelodeon/Gore Verbinski's Rango, is one of the few animated films of the past two years to have left an impression on me. And similarly, animation house Laika Inc has provided audiences with not just the best animated film of the past couple of years, but one of the best films of 2012 with ParaNorman.
ParaNorman is of a familiar breed to Verbinski's Rango. Their central characters are alienated and in a constant search to reexamine and redefine their identities. On a thematic level, both pictures utilize the iconography of genre to help define their settings. In ParaNorman's case, writer/director Chris Butler utilizes the horror-film tropes, particularly referencing the work of John Carpenter (some of the impressive sight gags on display were inspired by films like Halloween or Assault on Precinct 13), to magnify the alienation that his central protagonist endures, as well as using it as a backdrop for moments of comic relief.
But like Rango, ParaNorman does not directly depend on its referential qualities to get by. Much like Coraline, it's a film of such rich design qualities that it's hard not to be entranced by the visual splendor on display. The rich settings shift from the commons of City Hall, to a cemetery, to an otherworldly universe while maintaining a brilliant hue of imagination through every frame. Perhaps contradictory, ParaNorman is an impressive feat of creativeness in spite of its utilization of a familiar iconography. Coupled with the impressive visual textures is a deep-rooted sense of conflict in compromising one's individuality for social acceptance. It's a film that views the nature of regret and the growth of cynicism with a keen and visually compelling eye. Few films this year have provided me with such a stimulating marriage between visual presentation and thematic resonance – to find that an animated film can still provoke that kind of reaction inspires me to think that we might be seeing smaller studios capitalize on the creative shortcomings of former studio giants.  
Rating: 8/10