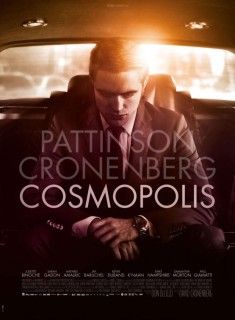 Enigmatic yet immaculately structured. Emotionally muted while relentlessly compelling, with tension that escalates with measured precision, Cosmopolis is a film of remarkable gravity. It's a picture that one can directly associate with civil unrest in the aftermath of the Occupy Wall Street movement, but its reach extends significantly further. My disagreement with many contemporary critics is coming from the confining nature of their analysis of Cosmopolis. It is a film that transcends modern socioeconomic discourse and gets at the heart of the matter – at the heart of how people view themselves and view others. What David Cronenberg achieves in Cosmopolis is a natural progression from his previous picture, A Dangerous Method. Both films adhere to dialogue-heavy streams of consciousness, whereupon characters and the audience attempt to forge some minute understanding of existence and the abstracts terms associated with perception. 
Much like the limousine that functions as transport, domicile, and office, the impenetrableness of Cosmopolis' setting is only matched by its dense verbal exchanges. At points indecipherable, Cosmopolis still remains at arm's reach, capable of provoking deep intellectual thought while challenging viewers to redefine not just their cinematic expectations, but their worldview at large. Much of what goes on comes to play on how the world views the rich, and conversely, how the rich view the rest of the world. Having recently watched The Queen of Versailles, Cosmopolis builds on that film's questions of perceived notions of the economically privileged and their perpetual debt that is owed to society.
The abstract concepts that Cosmopolis addresses evoke so many penetrating moods, from an airy dreamscape to apocalyptic dread, the film may not possess inherit emotional qualities, but they certainly inspire them from within. It's a testament to Cronenberg and even Pattinson's strengths that such initially clunky and bizarre dialogue could possess such immediate impact halfway through the picture. Pairing Pattinson with such an impressive supporting cast (Juliette Binoche, Samantha Morton, and especially Paul Giamatti) affords him with the perfect counter to his rather flat delivery. While some may criticize his work, it's precisely what Cosmopolis needs from this wunderkind billionaire.
There's a lot to digest in Cosmopolis. It's a film that purposefully denies audience conclusive elements. It can be jarring, almost random in design. But there's a delicate and careful aim to so much of its construction. Visual elements, such as Pattinson's loss of clothing throughout the picture, stripped of perceived elegance - through the hemorrhaging of money - works like some of the keen orally-fixated imagery in A Dangerous Method. Perhaps some of it comes across as too clever, perhaps too subversive. And even while watching the picture, I struggled to pinpoint where I stood on the film. But immediately after walking out of the theater, it's a film that sustains itself through its subversions and questions. There aren't going to be many films this year that arouse so many questions while remaining so impeccably fluid and approaching the way Cosmopolis does.
Rating: 8/10