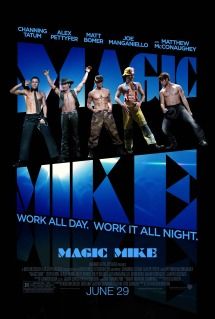 Something needs to be said of Steven Soderbergh's versatility as a director. Distinguishing his efforts by labeling them as merely commercial or independent projects limits the scope of his work. The variety in ensembles, time, place, and material is united by Soderbergh's directorial precision and social/political/economical awareness. What he does in Magic Mike culminates many of the ideas that he explored in some of his most recent films as he's uprooting the occupational self-identity crisis of The Girlfriend Experience and rich gender politics of Haywire into a Hollywood exhibition of the male physique.
Truth be told, it's not all too shocking to see someone like Channing Tatum take the lead role in Magic Mike. His casting doesn't resemble that of Gina Carano in Haywire or Sasha Grey in The Girlfriend Experience as it seems too self-identifiable to the real person. This works for the picture's benefit though, as Tatum avoids the problems found in the aforementioned performances – he's a capable actor working a script that is tailored to his history. The film's not without some surprise performances, as Alex Pettyfer, whose previous work includes the abominable Beastly, impresses as a naïve kid awed by the dazzle of proposed stardom. Gabriel Iglesias has a bit role that will go unsung, but offered a stunning new perspective on the actor/comedian's abilities. But it's Matthew McConaughey who leaves the greatest impression, who serves as the business force behind Xquisite night club. Soderbergh utilizes the character not just for his brashness, but to underscore Magic Mike's socioeconomic subtext.
Magic Mike's concerns rests on the proposed notion of relying on the male anatomy as a commodity. Tatum's character is someone who daydreams of leaving the stripping industry for his own novelty furniture enterprise. Tatum dons the Magic Mike moniker as a means to an end. But he's ignorantly unaware of his own status as a commodity. Its part of the picture's most interesting dissections, as everything that happens outside of Xquisite plays on the limitations that Tatum has on selling himself to other people. Whether it's the difficulties of connecting with women or even obtaining a loan, Magic Mike wisely acknowledges the alienating aspects of working in an industry that values the physical.
Many will favor The Girlfriend Experience's cerebral efforts over Magic Mike's glossier and more narratively driven aspects. And obviously, the demographic that Warner Bros Pictures wants to hit will appreciate the gyrating gestures on display. But I think this is a satisfying compromise in Soderbergh's tendencies. On one hand, he embraces a more vivid and livelier cinematic terrain that's more at home with his Hollywood efforts. And on the other, there are intervals where the film analyzes broader social concerns that allow Soderbergh to employ a more artful hand. All in all, it's about eight pelvic thrusts out of ten.
Rating: 8/10