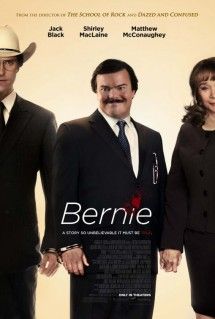 Bernie opens with a title card stating "What you're fixin' to see is a true story". Most films that begin with a notice like this carries a distinct set of expectations. What Linklater opts for is less subversion and more a modification of what we've seen before. He alters expectations by appropriately catering to his subject matter.  What the audience is "fixin" to see is a thorough examination of a man's life through the eyes of a town. The light touch of allowing the setting to shape the vernacular and overall tone of Bernie is enough to give it unexpected freshness and ingenuity.
The film adopts a fairly standard narrative framework, as we're introduced to Bernie Tiede (Jack Black) through the eyes of the townspeople. He's a valued member of the small town of Carthage, Texas. As an (assistant) funeral director, Bernie ends up touching the lives of most of the older women in the community, where he takes it upon himself to bring sympathy to the grieving. Following the death of her husband, Marjorie Nugent (Shirley MacLaine) ends up being another in a long line of Bernie's grieving widows. Marjorie is a slightly different beast though. She's absolutely reviled by the community. Bernie takes it as a challenge to open Marjorie up and reintroduce the gospel into her life. It's here where the two begin a relationship that has the town abuzz.
Bernie's effectiveness rests in how Linklater frames his central character. He makes no attempt to interpret the significance of Bernie's actions, instead allowing the audience (and the townspeople of Carthage) to make up their own minds. What could have been a typical mockumentary ends up provoking thoughts on the nature of criminality and the subsequent worldview of a town who knew the man before he was considered a murderer. Does the debt that a man pays to his community entitle him to criminal leeway? And what of the victim, who was vilified and despised by both the townspeople and her own family? The complexities involved here took me by surprise, particularly given that the picture is essentially a Jack Black vehicle. But in this role, Black commands attention. Similar to Adam Sandler's performance in Punch-Drunk Love or Will Ferrell's role in Stanger Than Fiction, Black keeps his comedic tendencies in check for the benefit of the material. His inherit charisma is needed for the character, but he refrains from ever being too outlandish. It's Black's best performance of his career and among the best of 2011.
Rating: 7/10