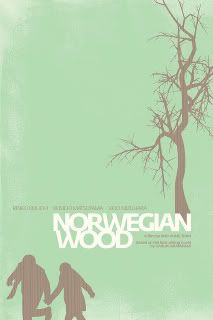 New York Times critic Stephen Holden appropriately compared Tran Anh Hung's adaptation of Haruki Murakami's novel to Elia Kazan's masterful Splendor in the Grass. The two films share a distinct sense of fondness for a bygone era (or concept) that treated sex as a sort of revelatory experience as opposed to simply casual. Both pictures view courtship and yearning as a necessary trial of adolescence. And in both pictures, the central female character crumbles under the arduous strains of unrequited love. But with Norwegian Wood, Tran Anh Hung opts to fragment Murakami's words, as he moves at a dreamlike pace through time and space.
Norwegian Wood is set in the late 1960s in Japan. Amidst the political and social strife that inhabits the land, Toru Watanabe (Kenichi Matsuyama) loses himself to his studies following the suicide of his closest friend. Ambivalent to most everything, the brooding teen finds himself warming up to Naoko (Rinko Kikuchi) – his deceased friend's girlfriend. The two bond through their mutual loss, which subsequently results in Naoko giving herself up to Toru. Their passionate embrace is a short one, as Naoko disappears, submitting herself to a sanatorium.
Murakami's novel explored the rich emotional depths of first love with a certain sense of lyricism that makes him one of my favorite authors. While Norwegian Wood is not quite my favorite of his works, its naïve perspective on love possesses gravity through Murakami's rich poeticism. Hung's adaptation dutifully matches that sense of poeticism through its visual approach – Lee Ping Bin (cinematographer for Wong Kar Wai's In the Mood for Love) beautifully captures a sense of yearning through every frame. And the fragmented nature of Hung's adaptation only adds to Bin's dreamlike imagery. Unfortunately, the picture is a bit too unfocused to register completely. This largely stems from Kenichi Matsuyama's sedated performance – the actor rarely elaborates on his brooding demeanor.  While the character's passivity is meant to register as a result of losing a beloved, the fact that his face remains a blank emotional slate serves to hinder any sort of emotional empathy on his behalf.
And as is the problem with most adaptations, there's give-and-take in regards to what can be expressed cinematically. Murakami's words don't lend themselves to the traditionally cinematic, so having them said out loud can feel a bit off-putting. Bits of pieces of the film work remarkably well, particularly in scenes that utilize Johnny Greenwood's incredible score, but given that this was one of my most anticipated films for over a year, I can't help but feel a bit let down.
Rating: 7/10