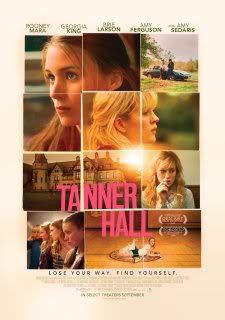 After premiering at the Toronto International Film Festival in 2009, Tanner Hall collected dust, awaiting eventual straight-to-DVD release. Upon the news that Rooney Mara would be starring in David Fincher's The Girl With The Dragon Tattoo, the film's distributor's opted to have a very limited release in theaters before releasing the picture on DVD/Blu-ray a few weeks ago. And well, it's a shame. Tanner Hall may be lacking, but it's a picture that sails on a breezy tone. Composed of four narrative arches, each of varying degrees of importance, Tanner Hall has an earnest tone to its sentimentality that makes it work.
Taking place in a New England boarding school, Fernanda (Rooney Mara), Victoria (Georgia King), Kate (Brie Larson), and Lucasta (Amy Ferguson) contend with the social anxieties of adolescence. Directors Francesca Gregorini and Tatiana von Furstenberg take their jabs on the problems of upper class teenage life, undoubtedly drawing upon their own wealthy upbringing. But as the film addresses particular intricacies in each girl, Gregorini and von Furstenberg distill any commentary on issues of youthful entitlement, instead opting to address more universal concepts that cross socioeconomic lines. It works about half the time, as Rooney Mara and Amy Ferguson benefit from having a significantly more fleshed out narrative arch. Mara's arch places her in a relationship that is well outside her comfort, whereas Ferguson's closeted character is genuinely convincing and heartfelt.
Despite dwelling on material that can sometimes seem generic, Tanner Hall benefits from Gregorini and von Furstenberg's keen visual eye. Given that the picture is largely contained in its claustrophobic boarding school setting, the two directors enhance every frame with rich visual appeal. From Brain Hubbard's well-lit cinematography to the impressive contemporary costume design, Tanner Hall is a surprisingly well-constructed piece of work.
Gregorini and von Furstenberg fumble with some of the picture's writing aspects, especially as they take customary dips into the comedic well. And obviously, while two of the lead characters are well-developed, the other two seem to fit a perfunctory role that does little to enhance the whole of the picture. Still, while drawing upon films like Drew Barrymore's Whip It and Sofia Coppola's The Virgin Suicides, Tanner Hall operates as a fairly effective as an examination of female adolescence. The picture can be broad, and doesn't quite achieve all its sets out to do, but it's still a fairly observant and engaging film that left me pleasantly surprised.
Rating: 6/10