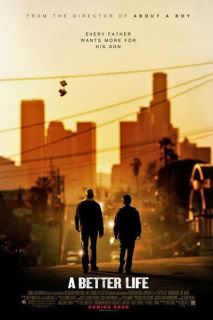 A Better Life opens on an idyllic visage of a Los Angeles morning before we are thrust into the gritty life of an undocumented worker named Carlos (Demián Bichir) and his son Luis (José Julián). Chris Weitz accomplishes a minor miracle in the opening of his film as he begins laying the groundwork for his narrative. It largely stems from the way he utilizes the spatial setting of Los Angeles. He feeds off the surroundings as a way of stacking the deck against Carlos. From cramped living conditions to an imposing work setting, we typically see Bichir framed at an angle and under great duress. Weitz doesn't maintain this sense of directorial prowess beyond the opening act, whereupon the remainder of the film rests on Bichir's steady shoulders.
 A Better Life lacks a sense of subtlety when addressing its cultural objectives, particularly when it involves outsiders to the lives of Carlos and Luis. Gangsters and authority figures are painted in very broad strokes that are the result of an underdeveloped screenplay. The film does take some compelling risks though, as A Better Life is framed under a very specific cultural lens. With no white characters of note, A Better Life benefits from the specificity of its cultural experiences. As the narrative begins to progress, we follow Carlos and Luis in a Bicycle Thieves-like voyage throughout Los Angeles. The shift in setting and cultural perspective is a clever idea, but again, doesn't ever achieve its potential because of its undercooked screenplay.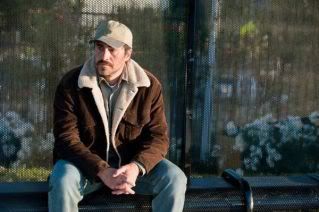 Demián Bichir, who scored a shocking SAG nomination, is truly a revelation here. Bichir is operating on a much higher plane, whereupon he brings a level of nuance and reserve to his role. There's a pensive appeal to his character, where he's driven by familial bonds and morality. Perhaps on paper the character may come across as heavy-handed. But when realized by Bichir, there's something remarkably human that he brings to the bluntness of the screenplay.
With a weathered face that fits the character, Bichir's towering work is unfortunately too large for such a small film. It becomes especially problematic when he is directly opposing José Julián, who simply cannot keep up with Bichir's rigid naturalism. It's not entirely Julián's fault either, as his character's moral arch is too derivative and simplistic. And when you have a limited actor working with one-dimensional material, the results are less than convincing. Still, A Better Life deviates just enough from films of its type to remain interesting, and with Demián Bichir's stellar performance, manages to have a far more permeated affect than expected.
Rating: 6/10