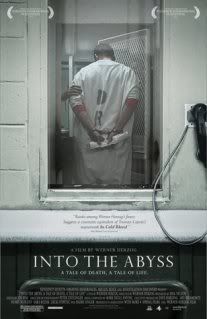 On October 2001, Jason Burkett and Michael Perry murdered Sandra Stotler, her son Adam, and Adam's friend Jeremy Richardson. There's little to dispute that fact. And while Werner Herzog goes through a portion of his film to describe the crime with an officer familiar with the case, he doesn't make much of an effort to rationalize the event. The ugly crime happened. Herzog is far more interested in the subsequent fallout of the event, as Jason Burkett is living out a life sentence while Michael Perry is eight days away from his execution.
Herzog analyzes the social conditions that contributed to the two men committing the murders. Living in the ironically named Conroe, Texas, both men suffered from absent parents and a dilapidating exposure to violence. While one can assess the tragedy from a purely economic perspective –the two murdered Mrs. Stotler for her Red Camaro and proceeded to murder her son and his friend to obtain access into a gated community – Herzog instead probes for contradictions in the situation. Herzog seems particularly interested in assessing the reasoning behind giving one man a death sentence while the other gets life in prison. As the film peels the layers of each man's life, there's a sense that there's weight in one's misery. Jason Burkett's father, who is also incarcerated, was brought in to testify. He broke down in tears as he pleads with the jury to not give his son the death sentence. The strength of this testimony undoubtedly saved Burkett from the death penalty, though there's a lingering moment where Burkett's father acknowledges the lost cause that he is fighting for. In a truly gut- wrenching moment, the father recounts the story of sharing the holiday with his son in handcuffs. He acknowledges his failure, as he simply wishes to go back to a time where he could have simply provided for his son.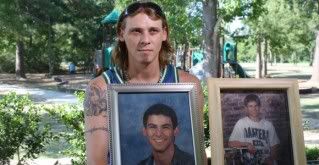 While Joe Berlinger and Bruce Sinofsky's Paradise Lost: The Child Murders at Robin Hood Hills was more concerned with the intricacies of West Memphis Three case, Into the Abyss focuses largely on analyzing the culture behind the death penalty. In the film's most revealing interview, we are introduced to Captain Fred Allen. As death row's executioner, Allen had been responsible for killing over a hundred people before retiring early. Allen shares a quote that serves to underline the all-encompassing manner of Herzog's thesis, wherein one can look at a person's gravestone under a new perspective. But for those without family and sentenced to death, their gravestones carry a different meaning all together.
Rating: 9/10