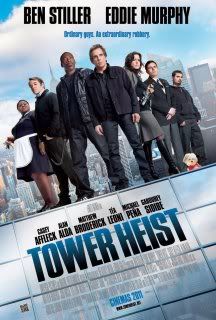 Tower Heist operates under a similar perspective that worked for Adam McKay's The Other Guys. Both films attempt to address the 2008 financial crisis in a contemporary way, though both ultimately give in to their own comedic sensibilities. It works better for The Other Guys, as the comedic well that Will Farrell and Mark Wahlberg draw upon isn't quite as shallow as Tower Heist's. The stark difference between The Other Guys and Tower Heist is simply in the energy that both films exude; the former feels fresh in its perspective (ironic, given that it's the same sort of film that McKay and Farrell have been making for years), while the latter slugs for about half its runtime, before getting a boost from an unlikely source.
Ratner's film opens without the slightest sense of nuance. We're introduced to characters in the most utterly lazy and simplistic way as hotel manager Josh Kovacs (Ben Stiller) gives a prospective hire (Michael Pena) a tour of the premises. Here, we get a chance to meet the concierge (Casey Affleck), a maid (Gabourey Sidbe), the doorman (Stephen Henderson), and the wealthy Wall Street trader Arthur (Alan Alda). The film moves in this sort of straight-and-narrow path for a good portion of its runtime, at least until we're introduced to Eddie Murphy's character, Slade.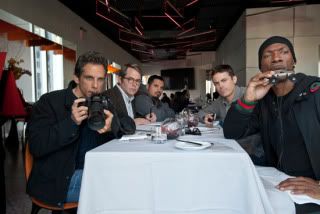 Much can be said about Slade; it's a character riddled with ridiculous urban stereotypes. It's the sort of character that is utterly devoid of any kind of development, whereupon his narrative arch is undercut by bizarre behavior and a non-resolution. Yet in spite of this, the mere fact that Murphy is playing a type that isn't geared toward his familiar family-friendly persona is enough to keep the film somewhat interesting. He's dynamic and charismatic enough to make the character much more than what is written on paper.
But on the whole, the film simply does not work. Brett Ratner relishes in the ordinary, as he seems to be motivated in keeping things mildly calm at all times.  Even in tense, awkwardly constructed situations (where a car is dangling off the side of a hotel amid Macy's Thanksgiving Day Parade) , there's no sense of vibrancy in his direction. Given the premise and setting, there could have been potential for a larger, more relevant film. But as it stands, it works as a mediocre piece of fluff. Despite its timeliness, it's not very contemporary. It's most pertinent contribution to society is that Eddie Murphy is actually a pretty exciting actor.
Rating: 4/10