In a rare, packed house at the Music Box Theater, cinephiles were greeted with a "secret" screening of Young Adult. It wasn't much of a secret; the film's co-star, Patton Oswalt, spilled the beans over his Twitter. But the buzz for the film was electric, and as management started teasing of what the film would be (the announcement of Happy Feet 2 was met with faux-storming out by several audience members), we were greeted by not only Patton Oswalt, but director Jason Reitman and writer Diablo Cody. They'd stay for a Q&A session that was marked by Oswalt's impeccable comic timing and a remarkably thoughtful and detailed outline of the writing/directorial process from Cody and Reitman. I've been to my fair share of prescreenings and Q&A sessions, but this easily takes the cake as my favorite.
As for the film, for those who admired Cody and Reitman's previous effort in Juno, it's a bit surprising to see how much a departure Young Adult is in terms of tone. It bares more similarities with Reitman's previous outing, Up in the Air, at least in terms of achieving a darker comic tone while shifting the material to a more mature setting (though if Young Adult is about anything, it's about immaturity).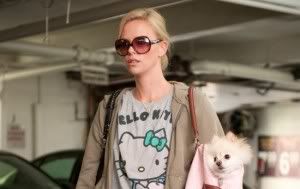 Young Adult focuses on the sense of loss that comes with adulthood, particularly on those who emphasize a great deal of importance on a specific time in their life; such is the case for Mavis (Charlize Theron). She's a young adult fiction ghost writer who has left her tiny, fictional town of Mercury, Minnesota for the "Mini-Apple". But as her life falls into a routine, she is greeted by the news that her high school flame has just had a child. The news prompts her to leave the cityscape and retrieve something that was lost decades ago.
The film balances an astutely dark comic tone with individual scenes of poignancy that made for an experience similar to Up in the Air. Comparisons  to Billy Wilder's work was a topic often touched upon during Up in the Air's press campaign, and I doubt Reitman is going to dodge those same comparisons when Young Adult screens for critics. But what I admire most about Young Adult is its sense of time and place; Cody understands a specific type of character in Mavis, and creates a grand sense of time while containing her to what is essentially a weekend. We get a very in-depth history of Mavis' depression, alcoholism, and anxieties that is realized in a very organic and believable way. And the town in which Reitman and Cody operate under only serves to accentuate why Mavis is the way she is.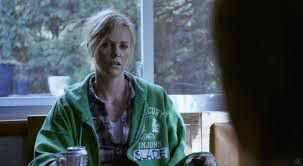 Cody makes a rather risky decision in the film's final act that will likely turn off some viewers, but frankly, I thought it kind of makes the film. There's a scene where Theron's character is forced to decide between paths and what motivates her to choose is incredibly rich as both a dark comedic moment and telling as a commentary on those enamored by a different place in time.
Rating: 8/10
As an aside: Young Adult's awards prospects. Reitman's been nominated twice in a row, and both Cody and Theron have an Academy Award to their name.  Young Adult's darker tone will make it a tough commercial sell, though with (kinda) similar films like Bridesmaids and Bad Teacher breaking $100 million, it might not be quite so tough. I'm betting Theron will get a Best Actress nomination and Cody will be up for Best Original Screenplay. Beyond that, it depends on its success critically and commercially; the field could potentially expand to Best Picture and Best Director, though I doubt it. What's really on the fence is Patton Oswalt's Supporting Actor performance; he's good, though Young Adult has to really play well for me to believe he's in the fray. But with an unseen performance from Max Von Sydow in Extremely Loud and Incredibly Close and a still-in-question performance from Kenneth Branagh in My Week with Marilyn, it'll need support.