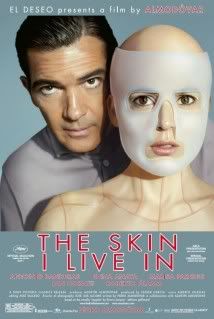 There are two crucial scenes of rape in The Skin I Live In that establish the galvanizing importance of time in Almodóvar's sexy new film. The Skin I Live In inhabits a cinemascape that borrows heavily from films like Alfred Hitchcock's Vertigo and Georges Franju's Eyes Without A Face, with a sprinkle of physical horror in the vein of David Cronenberg for good measure. But within the film's many nods, you find yourself immersed in a world that is purely Almodóvar with its lush visual set pieces, intense melodrama, and sexually dubious characters.
The Skin I Live In is difficult to grasp initially; from the onset, we're introduced to a young woman named Vera (Elena Anaya as she channels a young Irene Jacob). In a posh mansion, she is held captive as she's delivered meals through a dumbwaiter. She dons a tan full-body suit; she wears the garment as if it were a second skin. Dr. Robert Ledgard (Antonio Banderas) gazes at her image via surveillance video with the utmost attention. Why Vera is confined and why Robert looks on is left open initially; we're placed into their world without a greater sense of the narrative arc that is soon to come. As the pieces are placed together, and as the first of two rapes occur, we are thrust into a back story that is so rich, riveting, and rewarding that Almodóvar rarely relents in escalating the tension.
While one can say Almodóvar is too dependent on a piece of narrative gimmickry to move from his preliminary arc to the next, I'd say the springboard to from the not-too-distant future to the not-too-distant past is so efficiently put into practice that it hardly matters at all. We move from a narrative that is largely based on the relationship between Robert and Vera to one involving Robert, his daughter, and a man named Vicente (Jan Cornet). What follows is the unification of two very distinct narrative threads that have been expertly sewn together with such precision and attention to detail.
I've also been a bit resistant to Almodóvar's work. I've cautiously embraced films like All About My Mother and Talk to Her; though it's odd since I've felt that he touches upon a lot of what I like about films. The way Almodóvar neutralizes gender and comments on ascribed notions of sexuality have always been effective, with The Skin I Live In most overtly realizing the issue. But what makes The Skin I Live In my favorite of his films is the implicit horror of it all. The film genuinely thrills while exercising characteristic Almodóvar qualities i.e., the melodrama, the humor, the visual allure. The overall effect of Almodóvar delving into a genre specific terrain is mesmerizing and allows the man to tinker with conventions unlike ever before.
Rating: 9/10