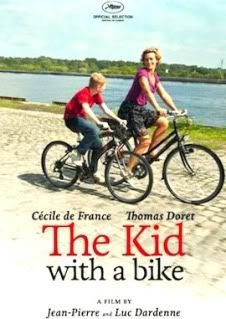 The sheer simplicity in which the Dardennes approach their subject matter always impresses me. They're capable of elevating tension and escalating the emotional stakes at a moment's notice. With The Kid With A Bike, the brothers employ their traditional method of filmmaking while implementing an urban fairy tale that is akin to their 1996 film, The Promise. While The Kid With A Bike doesn't stand as the duo's best film, it's perhaps their most impressive directorial effort to date.
The Kid With A Bike opens with a simple idea that is quickly expanded upon – an abandoned boy named Cyril (Thomas Doret) calls his father's apartment. No one is there to answer, leaving the boy to search for him. The sense of urgency and pure obsession that the Dardennes evoke in establishing Cyril's character is impressive – we're immediately thrust into the boy's dilemma and understand the what and why of it all within minutes.
Cyril's drive to find his father is the sort of obsessive quality that in turn brings about a cruel sense of loneliness and solitude upon him. He eventually finds his father with the help of a young hairdresser named Samantha (Cecile De France), but is eventually rejected; the father (Dardenne's mainstay Jérémie Renier) wants to start a new life without his child, therein asking Samantha to take the boy as her own. Upon the news, the brutality and weight of the news overcomes Cyril, wherein the boy literally begins to claw at his face. The immense magnitude of such a scene is in the way it is shot – the gritty realism in which we view the world is uncompromised throughout the film. And what's even more impressive about it is how the Dardennes evoke a larger spiritual center to it all. The Dardennes have a very keen way of introducing a larger spiritual center to all their films, and the way they introduce this into The Kid With A Bike is incredibly effective yet never compromising.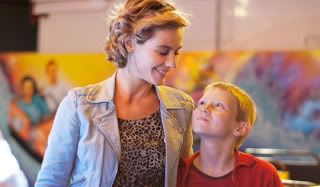 While the spiritual elements certainly don't intrude on the manner of which the Dardennes film, it does serve to hinder the writing. It becomes particularly grating in early scenes that serve to establish Samantha's character; given the rich oeuvre of material for women in Dardenne's filmography (Émilie Dequenne in Rosetta, Arta Dobroshi in Lorna's Silence) it's a shame that Cecile De France doesn't have a whole lot to work with. The material is simply too thin to elevate her character beyond its saint-like holdings.
But despite that quibble, the whole film is truly an accomplished work, and yet another feather in the Dardenne's cap. Criticized for an output that tends to be "more of the same," I have to wonder what people expect from these guys; they've settled into filmmakers who make astute observations of urban landscapes under a humanist lens. I have no qualms with that.
Rating: 8/10