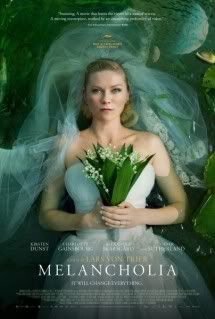 Melancholia is broken into three distinct pieces. The visually stunning and sensory tingling prelude depicts the end of the world, wherein a planet (known as Melancholia) collides with the Earth. It's a spectacular sight, one that is interspersed with postcard images of a bride named Justine (Kirstin Dunst), her sister Claire (Charlotte Gainsbourg), and the visual feast that comes with the end of the world. From there, we follow two distinct narrative threads that involve the sisters. The first focuses on Justine and her stylish wedding reception, wherein her character evolves (or devolves, depending on the way you look at the film as a whole) into a depressed, quasi-bipolar woman who roams her sister's estate. This spills over to Claire's portion of the narrative, wherein her awareness of Melancholia's impending collision with Earth is leaving her in hysterics.
Melancholia manages to employ the same sort of cosmic language that inhabited Terrence Malick's The Tree of Life, though with divergent affect and meaning. Trier relies on the heavily cosmic, end-of-days visual palette to convey a depressive state. Justine's depressive state forces her to view the end of time with a sort of shrug – her intense emotional trauma has already encumbered her with her ambivalence to the world. It works in contrast to Claire's response to the end of the world; she becomes obsessed and driven to do the irrational.
The idea itself is interesting, but the method in which Trier employs makes for a rather bloated film experience. Never the subtle director, Trier seems to be working under a far more on-the-nose frame of mind, wherein his nihilistic tendencies rarely go unnoticed. Kirstin Dunst goes so far as to explain the whole theology that Trier is operating when her character meets her doom: "We are all alone in this world. I know this". Whereas a film like Antichrist excelled in bridging the gap between Trier's manic-depressive direction with astute and provocative observations on marriage (plus the single best performance of the aughts in Charlotte Gainsbourg), a lot of what Trier has to say with Melancholia felt muted and unfocused.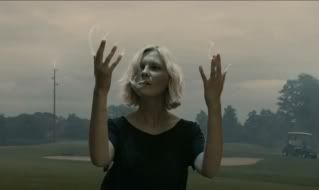 Whereas Antichrist functioned largely as a nightmare landscape, Melancholia felt more like a drifting daydream. While very structured and exceedingly elegant, Melancholia bares a stripped-down approach to viewing the world and its imposing demise. Perhaps it's due to the sense of utter hopelessness that Trier injects into the film, but despite all the elegance and general beauty that exists in the film, there's gruesomeness to the proceedings, to the way people act, to the way people even look, that rivals some of the more viscerally engaging scenes in Antichrist. It works in terms of setting up the atmosphere of dread that permeates throughout Melancholia, though as a film that touched me on a visceral or emotional level - not so much.
Rating: 6/10