I wouldn't say I envy those who never saw Tomas Alfredson's original film adaptation of John Ajvide Lindqvist's novel – it's a terrific film and among my favorites of 2008. But I do envy those who have the ability to displace themselves from using that film as a comparison point for Matt Reeves' remake. Remakes in general are difficult for me to embrace, especially those that are merely two years apart from their original, and especially those that seem to be made based on a need to convert everything to the friendly English language.
I will applaud Matt Reeves for taking a somewhat different approach to open up the proceedings – he begins somewhere in the middle, brings the audience back to the point, and keeps everything in a linear fashion. But how effective what this method is for those who already know the timeline? That's difficult to say, and unfortunately, I have no one to counter that point.
The setting has shifted to Los Alamos, Mew Mexico in the 80s. The consequences of this locale shift is undefined, largely in that Reeves tosses a few images of the 80s (Reagan on a broadcast) and sounds (David Bowie's Let's Dance), with little to no affect to the atmosphere. The 80s or now, the time setting is rather inconsequential to how events play out.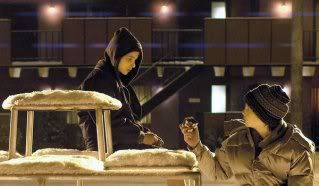 Reeves' work is largely a step backwards of Alfredson's attempt at the material. While Reeves thankfully condenses the weakest portion of Alfredson's film (the neighbor side story), he also disconnects us from the larger emotional issues that plague his central protagonist, Owen (Kodi Smit-McPhee). The child is inundated by both parents, but you never really get a larger sense of where this disconnect comes from outside a few short conversations with his mother and father. Instead, Reeves' screenplay seems slightly more concerned with the gender roles of his two main characters. Owen is bullied by children and often referred to as a little girl, therein implying weakness. Abby (Chloe Grace Moretz) is a source of strength for Owen, and goes so far as to fight his fights. But in all, Reeves' analysis of gender roles are fleeting, as he seems to juggle between mimicking imagery from Alfredson's original and imposing his own forced vision onto it.
The strength of the film stems from how generally good the source material happens to be, to the point that even Reeves' on-the-nose approach can't hinder the tragic sense of loneliness that can afflict childhood. Reeves may undercut some of the more pivotal moments of emotional resonance, but they are there long enough to strike a chord.
Rating: 4/10