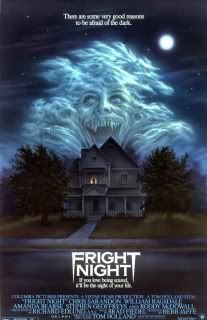 The 80s are cool again. This weekend we get a double dose of 80s remakes, what with Conan the Barbarian and Fright Night getting wide releases. Even I've been getting back to my 80s roots, listening to REO Speedwagon and Blondie on my bike rides. But I won't really argue against the notion that filmmaking (and music for that matter) was less than stellar during the 80s. It almost justifies the onslaught of 80s remakes coming out nowadays, as there's actually a reason to improve on the original. Such would be the case for Tom Holland's Fright Night.
Fright Night follows a young man named Charley (William Ragsdale) whose adolescence is put on hold as he contends with the possibility that a vampire has moved in next door. The premise isn't all too bad, but its execution is so amateurish and childish that it makes for a very awkward cultural reawakening. Fright Night's dated perspective on teen life (and the culture that influences it) is excusable to an extent, but the way in which Holland addresses the more formal elements of the film, i.e. framing, character motivation, the actual process of filmmaking, etc., makes Fright Night look like a film school reject project. Holland doesn't seem to have a grasp as to how to use his camera, as he frames characters in the most surprisingly ineffective way possible – is he going for laughs or scares? Does it matter when he doesn't strike a chord either way?
Contextually speaking, Fright Night offers nothing new. The film blends its attempts at humor with equally futile attempts at horror for little effect. Perhaps this truly is one of the first films that take such an approach of combining horror with comedy, but the fact is that it has been improved about so much since, that whatever tiny contributions it makes to the film space seem insignificant.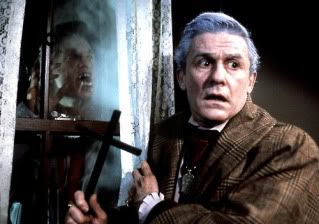 My motivating factor for not giving out a 1/10 is that there seems to be an honest effort on behalf of the cast to make a good film - or to at least have fun with flat material. Roddy McDowell as an aging television personality elevates the material far beyond where I expected it to go. His limited presence absolutely towers over the rest of the cast. But one has to wonder what the writers were thinking about having his character introduced in the first place – it deviates entirely from what the rest of Fright Night is about, that I have to wonder what the filmmakers and writers were hoping to achieve in having him written in at all.
Rating: 2/10