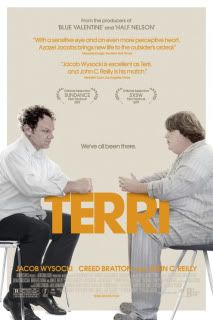 Reserved optimism is the ever persistent note that Azazel Jacobs hits with Terri, a film that blends the sensibilities of contemporary directors like Jared Hess, Noah Baumbach, and David Gordon Green. It's an odd combination that produces an odd result – Terri rarely adhered to my perceived expectations, resulting in an acute analysis of a youth shouldered with physical and cerebral pressures.
Terri (Jacob Wysocki) lives with his Uncle James (Creed Bratton). Uncle James suffers from Alzheimer's, leaving only brief moments of lucidity while combating periods of exhaustion. Terri's role as caretaker is understandably strenuous, and at 15, he simply does not have the resources or means to properly address his uncle's needs particularly given that he needs to maintain his school life as well. Terri's ambivalence toward school is a quiet one – while the subject of teasing, he rarely lets his voice be heard and continues on, shouldering the ever-persistent and ever-growing pressure.  His large physique and pajamas (as Terri notes rather flatly, they are simply comfortable) draw unwanted attention, as he eventually becomes a pet project for Assistant Principal Fitzgerald (John C. Reilly).
The idiosyncrasies that define Terri and Mr. Fitzgerald are plentiful and often times very interesting in understanding their motives. The chemistry between Wysocki and Reilly rings true, particularly as Terri begins to understand what Mr. Fitzgerald's role is in the grander scheme of things. And as the film expands beyond their relationship, you begin to see how Mr. Fitzgerald's role as mentor leads Terri to take one path over another.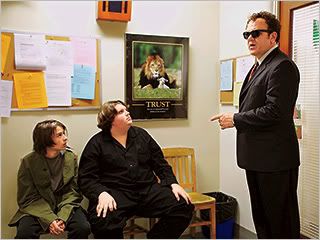 Many of the characters that pop up throughout Terri seem to fit more at home in a Jared Hess film, though it's Jacobs' ability to shift the tone from comedy to drama that alters the audience's perception on the whole matter. After leaving Terri, I asked myself how something like Gentlemen Broncos would have played had it been set up as a drama. There are periods of sustained awkwardness, particularly toward the end of the film where we see Terri embark upon a period of sexual awakening that reminded me of Noah Baumbach's work in Margot at the Wedding and Greenberg. It's an impressive scene that Jacobs writes and directs, as he maintains such a heightened sense of awkwardness and refuses to relent. It's all set behind an interesting backdrop reminiscent of Tim Orr's work in David Gordon Green's films, particularly All the Real Girls, as the rural backdrop serves to enhance the believability of the characters and their social isolation.
Despite (or perhaps because of) the influences, Terri ends up being a wholly new and satisfying experience. Jacobs is very candid and real about his construction of characters, and refuses to give the Terri character an easy way out. Instead, through the Mr. Fitzgerald character, Terri is given the tools to enhance his life and experiences. It's up to him to use it, and as he walks his way to his friend's house in the early morning, you gather that Terri just might know how to use them.
Rating: 7/10