…or The Itch that Ought to be Scratched. Elia Kazan's Splendor in the Grass doesn't really evoke a longing sense of unrequited love, but rather, a longing to simply get laid. The film possesses a very visceral sense of yearning sexuality, with Kazan tiptoeing a line between the chaste and lurid. But Kazan's sentiments are clearly entrenching with letting the kids do what they want, with leads Natalie Wood and Warren Beatty tossing everything at the screen and making it work.
Splendor in the Grass presents its characters on socioeconomic terms. We gather that the Stamper family, with Ace Stamper (Pat Hingle) as the overbearing patriarch, is financially well off. Ace is prepared to hand over his business to his son, Bud (Beatty). But Bud continuously expresses his reservations about following in his father's footsteps. Instead, he wants to marry Wilma Dean Loomis (Natalie Wood) and go to agriculture school to learn how to farm. The Loomis family represents middle class mediocrity, a social status that Ace simply worked too hard to go back to now.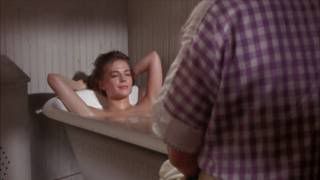 Bud and Wilma contend with their own budding sexuality. Or rather, they fight back every urge to engage sexually. The film's sexuality begins at a simmer and almost immediately begins to boil. But Wilma's mother expresses archaic, almost inhuman, ideas on sex that Wilma reluctantly embraces. Bud is the first one to break during their celibate relationship, therein causing the two to separate. Only then is Wilma willing to embrace Bud sexually, but it's too late - their relationship is scarred.
Bud's reluctance to embrace Wilma is the cause for her eventual mental breakdown, which coincides with the stock market crash of 1931 – the insanity is felt on a micro and macro level. Sure, it may come across as too melodramatic and self-important, but given what the actors bring to their roles, I felt it to be a convincing turn of events.
Splendor in the Grass was written by William Inge and is wonderfully structured. It's a fine example of melodrama, played intelligently without ever becoming pompous.  Kazan's direction isn't spectacular, but I suppose a level of restraint is needed in simply letting the actors convey their emotions. The film is truly an actor's exercise, as Natalie Wood and Warren Beatty trade kisses and words with an intense level of restrained sexuality. The two are capable of evoking powerful emotional responses from the slightest glance or loudest roar. It's a bit unfortunate that Kazan and Inge felt the need to tack on a voiceover to the film's ending – it simply spells out everything that we just saw in the preceding scene.  The actors didn't have to say a word throughout it – they simply looked at each other and you gathered a sense of what was better left unsaid.
Rating: 8/10