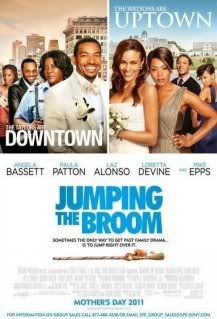 Upon the end of my screening for Jumping the Broom, producer T.D. Jakes – a fairly prominent black reverend – fielded questions for a Q&A session. I enjoy such events, largely because it offers insight as to what other people thought of the film, and perhaps strengthens my own resolve on the film's quality. Not to my surprise, my opinion of Jumping the Broom greatly differed from that of the majority, with the real kicker coming from a black woman who noted that "This is black cinema".
This comment resonated with me because it (a) was largely agreed upon by the audience and (b) didn't hold true to my own taste in black film. Mind you, I'm not black, and perhaps I should have prefaced my whole write-up with that fact. It ought to be noted that my sensibilities and tastes stem from an entirely different cultural backdrop. But even with that laid out, there are certain elements to the craft of Jumping the Broom that I simply cannot embrace; in this case, cultural barriers simply do not exist. For its formal qualities, I could simply dismiss the film as being a bad and leave it at that. But Jumping the Broom offended me in a way that I thought to look at it another way, especially given the intense enthusiasm of the audience I viewed the film with.
Queue my sociological analysis.
The portrayal of black men in cinema was lightly touched upon with my audience, with the consensus agreeing that Jumping the Broom rejected stereotypical images of the black male. This can be held true to an extent. The film's central male character is Jason Taylor (Laz Alonso) - he's successful and an inspiration in that he is an upwardly mobile black man who started at the bottom of the social ladder and is now fiscally independent. Essentially, the film's half-realized central conceit is how Jason's lower-class family interacts with his fiancée's upper-class family. But in order to create this idealistic concept of a character, screenwriters Elizabeth Hunter and Arlene Gibbs undermine all those around him, particularly his fiancée (Paula Patton) and mother (Loretta Devine ). This overt subordination of women grows tiresome, as the mental (and yes, even physical) abuse they endure tested my appreciation for the few things I could find interesting in the film.
Jumping the Broom defies some expectations, though I have to question their purpose. The patriarch of the upper-class family hints at the possibility of infidelity – he's actually just really bad with money. It's as if the filmmaker and screenwriters thought it would be interesting to purposefully propose one character flaw and substitute it for another, as if creating a hierarchy of personality faults. And in a waste of narrative time and space, the film's greatest strength is relegated to a non-issue, wherein the subject of social class and black assimilation into white culture are touched upon ever so briefly, subsidiary to the film's obsessive desire to have every character and side character entangled in some sort of sexual relationship.
The film's title refers to an African slave practice, wherein a couple would leap over a broom to signify the beginning of their shared life. But the practice is hardly a matter of discussion within the confines of the film's sporadic narrative, that by its end, one has to wonder why it's called Jumping the Broom in the first place. The subject matter that Jumping the Broom deals with is inherently interesting – it's a shame the filmmaker and writers aren't. As I watched Jumping the Broom, I thought of films like Nothing But a Man (1964), Killer of Sheep (1981), She's Gotta Have It (1986), and Do the Right Thing (1989) – that's black cinema. If only I told that lady...
Rating: 1/10