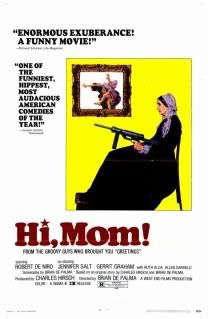 Hi, Mom! has three distinct narrative threads, none of which adhere to a logic within the narrative. Instead, they come together rather elegantly as a critique of upper middle-class New York. In many ways, despite the film's comedic tropes, Hi, Mom! is dauntingly depressing. The effect permeates from its opening shot, through the first-person perspective of Jon Rubin (Robert De Niro) – a young man who is attempting to rent out an apartment. He confronts the landlord, whose belly protrudes from under his shirt, and asks to see an apartment. Begrudgingly, the landlord presents Jon and the audience to a room in complete disarray, with broken furniture and fixtures all over the place. Yet the landlord refuses to acknowledge the poor condition of the room, and hardly budges on the rent. At this point, the audience is fully entrenched in the dingy environment of the film, with De Palma successfully displacing us from our comfort zone and immersing us in a world of filth and squalor. He lightens the mood sporadically, particularly through his eclectic soundtrack selection. But one has to question if these attempts at lightening the mood are genuine or rather meant to satirize the matter-of-fact nature of Rubin's smutty journey.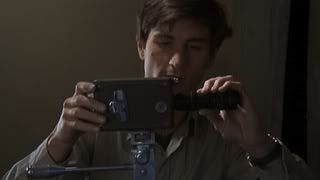 The three narrative strands that remain relatively loose involve Rubin videotaping his neighbors from across the street, his involvement in a black student movement, and his acceptance of middle-class values and immediate rejection of them. The black student movement aspect of Hi, Mom!  is the most politically charged I've seen De Palma, wherein he provides an extended video sequence entitled Be Black, Baby. Here, we see a theater-production shot in a documentary style, where upper middle-class Caucasians are led into a large home to be given a crash-course into what it is like being black. They are subject to brutal humiliation, with De Palma not pulling back any punches. It's only at the end of the segment, following severe acts of brutality, do we see a testimonial that releases tension to some degree.
Despite the interesting ideas that Be Black, Baby presents, the way in which the three narrative arches identify with each other escapes me. There are formal qualities to each arch that immerses the audience in a sort of perverse position, wherein we are forced to view things from Jon Rubin's perspective. But Rubin's perspective is diminished as each arch goes on – the opening segment where he is enter the adult film industry is largely first-person, while the other two segments are framed in a less Rubin-focused way. The beginning and end are particularly interesting because they are framed similarly, but with Rubin and his camera no longer being the eye. Have we successfully displaced Rubin? It's an interesting idea, but it's unclear as to where I, as an audience member, stand. The effect is certainly thrilling though, with this being De Palma's most immersive film that I've seen.
Rating: 7/10