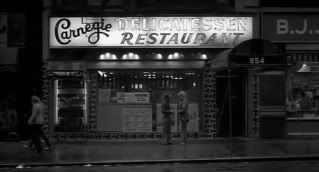 Woody Allen adopts an Ikiru-esque framing device to tell the story of entertainment promoter Danny Rose (Woody Allen). Various comics and entertainers share stories about Danny Rose – with the centerpiece story revolving around Danny's commitment to nostalgia-act Lou Canova (Nick Apollo Forte). As the narrator notes, Lou is an alcoholic, and was popular when he was younger. But with age, he has withered away into obscurity. Though with Danny's help, he hopes to once again become a star. While married, he has found himself smitten by a young interior designer named Tina (Mia Farrow).
Danny's commitment to Lou is not entirely selfless, as Danny's string of failures have forced him to reevaluate his life. But even with that, there's something genuine about their relationship. A friendship between them exists. That friendship may be incidental to Lou, but to Danny it means a whole lot more than a business arrangement – they're best of friends. So when the management-client relationship disintegrates, there's something genuine and heartfelt in the way it all falls apart. Lou sees it one way, Danny sees it another.
This ranks up high on my list favorite Woody Allen films in the way it blends comedy and poignancy. But even beyond that, Allen's sense of bitterness is surprisingly toned down – as Danny Rose, Allen is surprisingly optimistic about his future despite his getting on in age. Themes of friendship and commitment are reinforced throughout the narrative  - entirely noble traits that go against the grain of typical Allen films. Broadway Danny Rose stands as Allen's finest performance as an actor, and one of his best films in general.
Rating: 9/10