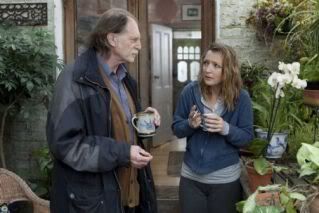 Seeing trailers of Another Year did not inspire confidence – it's a poorly conceived representation of an emotionally complex and rewarding film. The trailer plays on jovial sentiment, yet from its opening scene, Leigh braces us for a muted celebration of life. The film follows a happily married couple named Tom and Gerri. The two have a son that they adore, friends that they house, and lead a generally pleasant life. They function as an ideal couple, and as such, are remarkable as genuinely sweet characters. As a family, Tom, Gerri and their son look out for one another, and provide the sort of emotional support that one idealizes within a family construct.
It's the people around them that don't have their life together. Mary (Lesley Manville) works with Gerri – divorced and needing sobriety, Mary looks to reclaim her youth. But as she ages, her desperation for a family makes her increasingly overbearing. Her sanity teeters, as she observes Tom and Gerri, even latching onto them (and their son) as a means of having somewhere to belong. That sense of belonging is what she so desperately needs.
Leigh positions the narrative within the context of the seasons. It's a sensible choice – the blossoming spring and summer provide the characters with joy, the fall and winter provide the challenges that need to be overcome. The film does have a trajectory that is fairly simple to navigate, with characters that may seem a little too convenient for the purpose of the narrative, but Leigh manages to provoke such strong emotional reaction that it's easy to ignore its faults. The final scene in particular, emphasizes a sobering reality that stands as my favorite final shot of 2010.
8/10