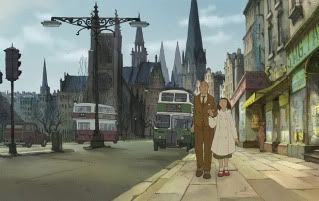 Magician Tatischeff (modeled after Monsieur Hulot himself, Jacques Tati) provides his aging brand of rabbit tricks and slights of hands to small venues in Paris and London. He carries his own poster and usually impresses an old-timer here-and-there to get a gig. He travels to the Scottish countryside, playing to a small but enthusiastic crowd. A young girl named Alice watches the magicians' tricks in awe – she stows herself away with Tatischeff as he takes a gig in Edinburgh.
The bond formed between Tatischeff and Alice is a heartbreaker, one that emulates certain narrative tracks as silent era films from Chaplin or Keaton. Tatischeff and Alice's relationship is one based on mutual appreciation, though the notion of illusion and reality functions as the key factor behind what maintains their attachment. The two drift around Edinburgh, as Tatischeff attempts to maintain an aura of the magical, while the doe-eyed Alice admires her hero.
The film itself contains dialogue that is incidental to the film's narrative, instead functioning as a music track to fill the air. It actually sounds quite beautiful, and functions to highlight the beautifully loud world that Chomet creates. The Illusionist sweeps you away with characters that are so rich and unique, leaving you under a spell that can't be shaken. Every aspect of Tatischeff's travels offers rich visual treats and wonderfully bizarre characters – the hotel he stays at houses a trio of acrobats, a ventriloquist, and a sad-sack clown, all of whom add a sense of awe, whimsy, and melancholy to the narrative. As the film reaches its conclusion, the tone shifts to something much more reserved – it does serve to show the evolution of both Alice and Tatischeff, wherein the gray lines between illusion and reality are visible.
10/10